Chinese insurance responds to the era of contactless via live broadcasting
 With the spread of Corona 19, face-to-face sales are disrupting China's insurance industry using short video and live broadcasting as alternatives.
- Tiktok, the representative platform with less than 1 minute video, is the media preferred by Generation Z
- The Chinese insurance industry has continued marketing on the new media platform in consideration of the consumption tendency of young people.
(1) Chinese insurance industry new media platform utilization trend
 Chinese short video company Tic Talk ( After checking insurance-related accounts, many accounts, such as insurance companies, insurance brokerage service companies, and insurance architects, are in operation ) 
- About 5 accounts with over 1 million followers
[Table 1] Insurance-related account status in Tic-Talk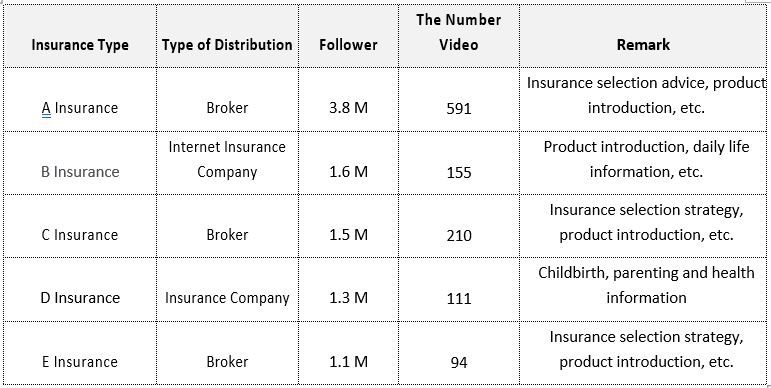 Some insurance companies, such as Ping'an Insurance, are broadcasting live through their App in addition to platforms such as Tic Talk, increasing the inflow of their App. 



How to utilize the new media platform sales activities in the insurance industry


(a) Introducing insurance products with high cost-effectiveness through live broadcasting mainly by highly trusted executives
[Figure 1] Live broadcast of executives of major insurance companies in the first half of 2020

Ping'an Insurance Group CEO Lumin (2020.05.27.) 
-Live broadcast of the 32nd anniversary of the founding Ridge & Way (2020.05.18.)
-Live broadcasting introduced Ping'an's insurance products, and broadcast-Live
-Cumulative number of viewers recorded 1,020,000 in 1 hour-
Hwasha Insurance Senior Accountant
Simultaneous access to 910,000
broadcasting's 400 million yuan 
(b) Connect the inflowing users to the company's insurance subscription platform or the insurance planner's contact information to lead to actual product sales.
-The subscription link of the product mentioned in the short video or live broadcast is displayed on the screen, so that you can directly go to the subscription page.
-Send a note to the person who showed interest in the comment so that online or offline consultation can be made with the designer
Ping'an Life's online sales activation support project


(a) Ping'an Star Academy Project
ㅇ In April of this year, 100 live broadcasts were planned with 100 excellent designers to provide contents such as the necessity of insurance subscription, precautions when registering, and product introduction.
[Table 2] Pingan Star Academy Project

(b) Ping'an Star Plan‧idol Project
Pingan Life Insurance's Wanghong* training project for its designers
Influencers who work mainly on online and social media and affect many people
-Ping'an Life selects trainee designers after receiving the application, and the selected designers go through the training course provided by Tic Talk and upload a mission video to Tic Talk for a month in June.
-The top 100 people are selected and the prize money is paid by combining the number of views and the number of likes.
⇒ Pingan Life Insurance plans to highlight the expertise of designers through this project, expand the influx of young designers, and support recruiters who have a shortage of offline networks to conduct sales activities using online.
(2) Regulations on the use of new media platforms in the Chinese insurance industry
As internet marketing such as short video and live broadcasting in the insurance industry attracted social attention, supervisors presented guidelines for the use of new media.
On June 22, "The Notification of the Live Broadcast of Insurance and Short Video Risk" of the Eunbo Supervisory Service in Beijing presented the norm for the use of new media in the insurance industry.
-After the short video and live broadcast, it is allowed to send the insurance subscription link and make an offline contract reservation, but must comply with the relevant laws and regulations (online broadcasting requires recording and storage)
-The insurance company must secure the reliability and accuracy of the content used by insurance providers or third-party service providers and take responsibility for managing it.
-Insurance sales fees cannot be paid to third-party service providers by modifying the form in the name of information technology usage fee, promotional fee, and advisory fee 
(3) Future prospects
While the social environment of corona19 proliferation requires insurance companies to develop and innovate new business models, the Chinese insurance industry is expected to utilize new media as a marketing channel beyond the Internet platform.
-Evaluation that the efficiency is high in that one recruiter can access a large number of potential customers regardless of region
-After the face-to-face counseling, a positive response is given in that sufficient time is given to reasonably worry without pressure on insurance subscription.
However, in addition to the company's official account, there is a burden on the insurance company to maintain content quality and comply with relevant regulations in the independent marketing activities of individual designers.
-Accordingly, Ping'an Insurance established a separate internal organization for content production, and produced content for online platform publishing and provided it to designers.